I came across this blog, not sure how... but I found it and I'm so glad! It's called 'Blog-o-Holl'ic". It's cute. I scrolled through her blog, just reading some posts and looking at the pictures, and saw a group of kids, holding hands in a circle with their heads bowed. I knew what it was, it is Pray at the Flag Pole, just like what Barlow does. We have a Pray at the Flag Pole every first Monday of the month and ever last Monday of the month. Barlow has a couple Bible studies, but the one I'm involved with is called IMPACT. (Visit
IMPACT's facebook page
) I thought it was really cool how other schools pray at their flag pole too! I am so excited to see that there are sparks of God in public high schools around the U.S. Makes me so happy and excited about how the school will change! Or move the school a lot! Like, make them realize that they need Jesus in their life.
What else I found out was cool is that this girl is a Labor and Delivery nurse! (YAYYY!!!) L&DRN!!! :) She gave me some great advice for when I start nursing school, which will be a bit a ways... but I love gathering information early! It helps train my mind and help with being prepared!
Visit Hollie Marie's blog....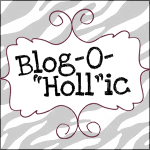 http://holliemims.blogspot.com/?expref=next-blog